Description
The SMOK RPM 4 Kit perfectly complements the RPM series, being more compact and more convenient, yet despite its small size, the 1650mAh built-in battery can ensure long-term vaping.
The battery can provide ample power and strong performance for each puff. Once the power supply disappears, the small pod system can be fully charged again in a short time through the Type-C connection. The RPM 4 vape kit can achieve an output power of 5 to 60W, which can utilize the full potential of the RPM and LP2 coils.
Whether you seek thick vapour or outstanding taste, a wide range of power adjustments ensures both of these are achieved in equal measure.
The chipset itself can recognize many parameters, and the user will receive detailed information about the coil used and the output. Featuring a 0.96 inch TFT display - rich vape data and customizable theme colours are perfectly matched to provide a more intuitive vaping experience.
The SMOK RPM 4 provides two cartridge options each compatible with a different coil series. The LP2 Pod is compatible with two LP2 coils, while the RPM Pod is compatible with all RPM coils, both have a capacity of 5ml.
A duck-billed mouthpiece is used on the top of the pod, while the transparent window design shows the consumption and remaining volume of the e-liquid, making it super easy to keep an eye on your liquid levels.
There are four small magnets at the bottom of the pod, firmly connected to the mod. Facilitate the assembly and disassembly of the pod. The package comes with a new LP2 coil installed in the pod. Both LP2 Pod and RPM Pod support infinitely variable airflow. There is an airflow slider on the back of the mod. RPM 4 can change the taste between DL and RDL when dragging the slider to the left or right.

Features:
1. Latest Leak Proof Technology
2. RPM 4 LP2 Pod, compatible with LP2 coils
3. RPM 4 RPM Pod, compatible with RPM coils
4. Stepless Airflow Control
5. 60W Max Power
6. 1650mAh Built-in Battery
7. 5ml E-liquid Capacity

SPECIFICATIONS:
Size: 103*25*27.9mm
Weight: 102g /107g
Battery Capacity: 1650mAh
Power Range: 5W-60W
Standby Current: <100uA
Input Voltage: 3.3V-4.2V
Output Voltage: 0.8V-4.0V
Resistance Range: 0.2ohm-2.5ohm
Charging Voltage: 5V±0.2V
Charging Current: Max 1.5A
Overcharge Voltage: 4.3V±0.05V
Overcharge Current: 2A±0.6A
RPM 4 LP2 Pod - Compatible with two LP2 coils
RPM 4 RPM Pod - Compatible with all RPM coils
0.96inch TFT Color Display Screen

In the box:
1pc SMOK RPM 4 Device (1650mAh)
1pc SMOK RPM 4 LP2 Pod (LP2 Meshed 0.23ohm DL Coil Preinstalled) (5ml)
1pc SMOK RPM 4 RPM Pod (RPM Mesh 0.4ohm Coil Preinstalled) (5ml)
1pc Type-C Cable
1pc User Manual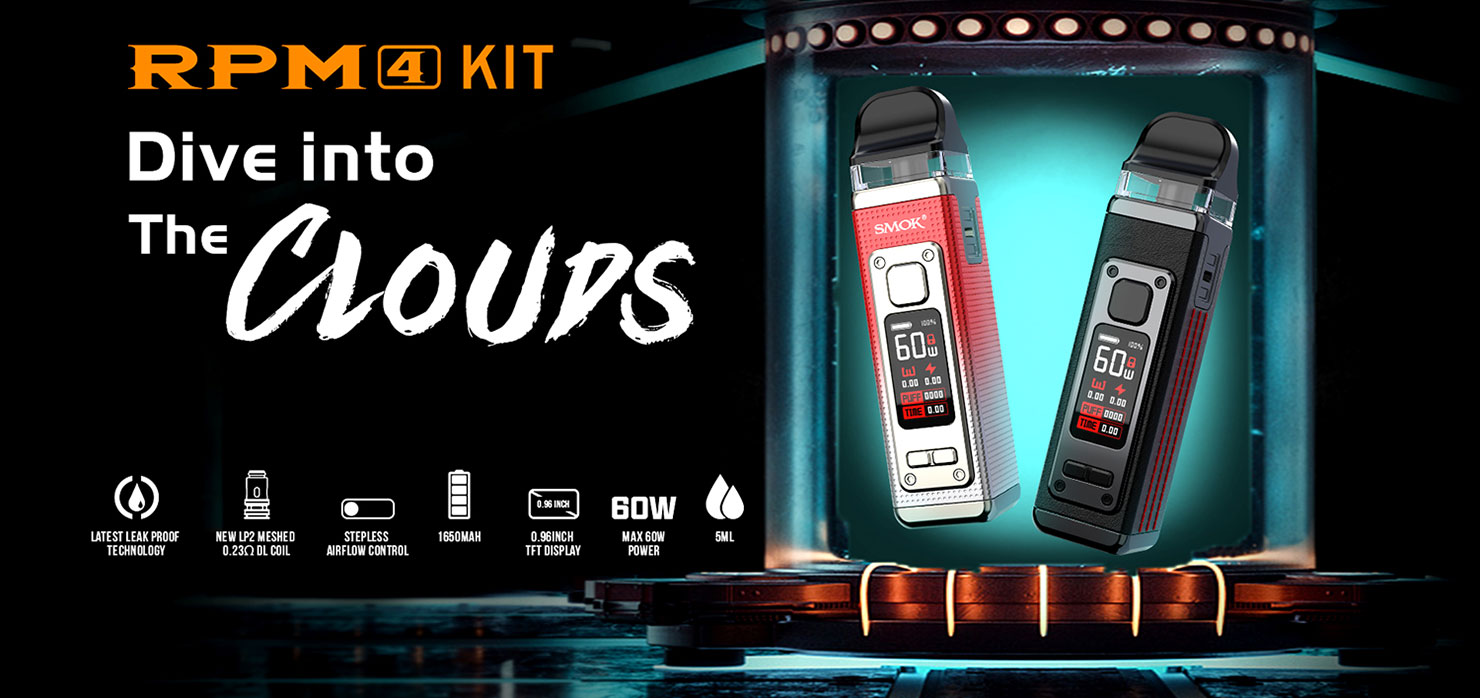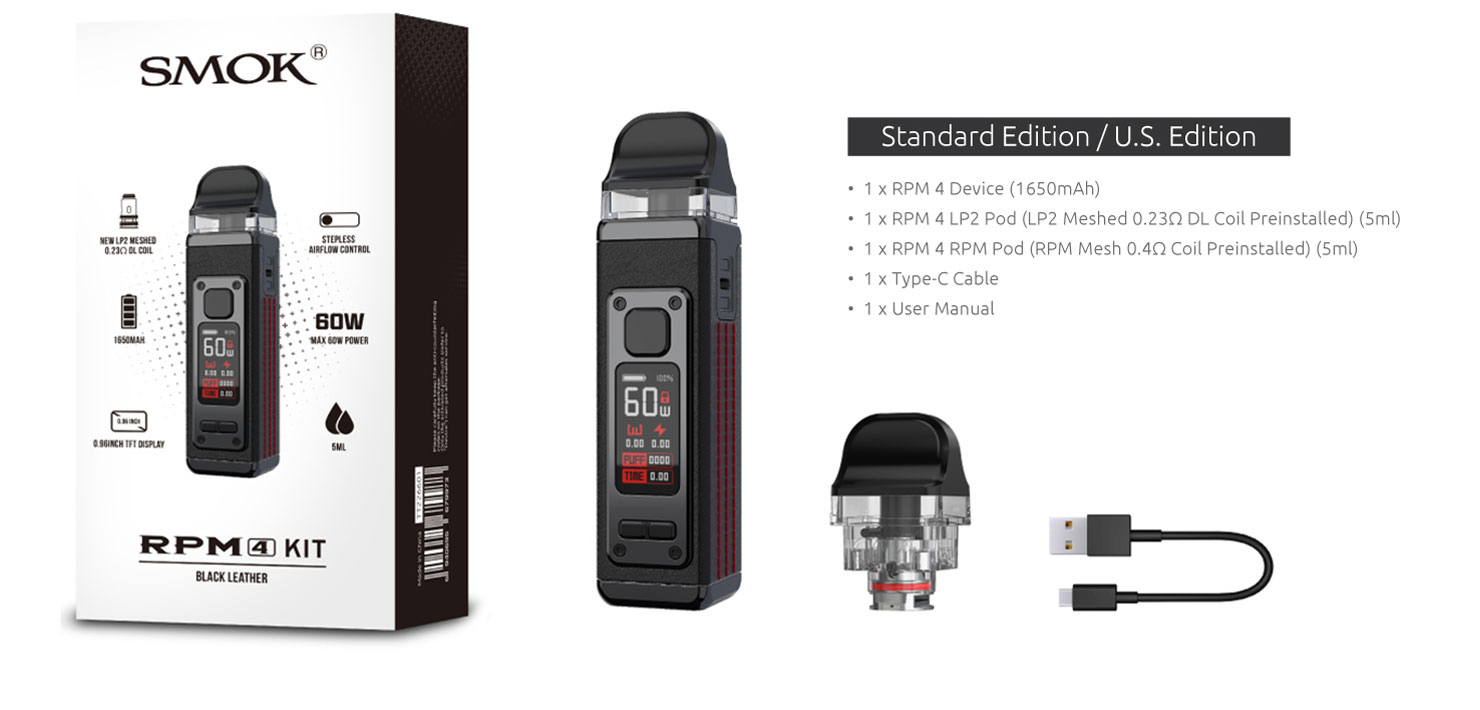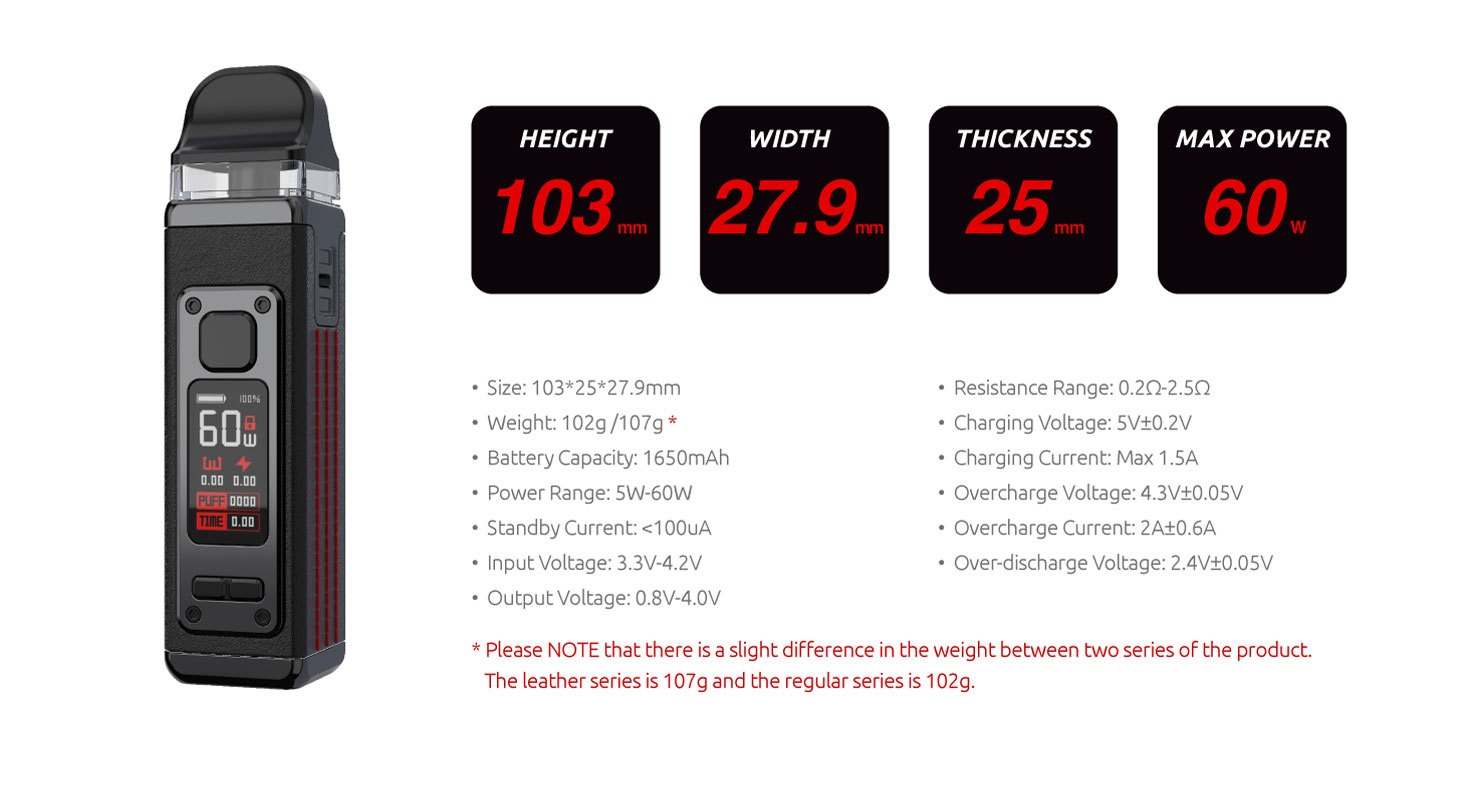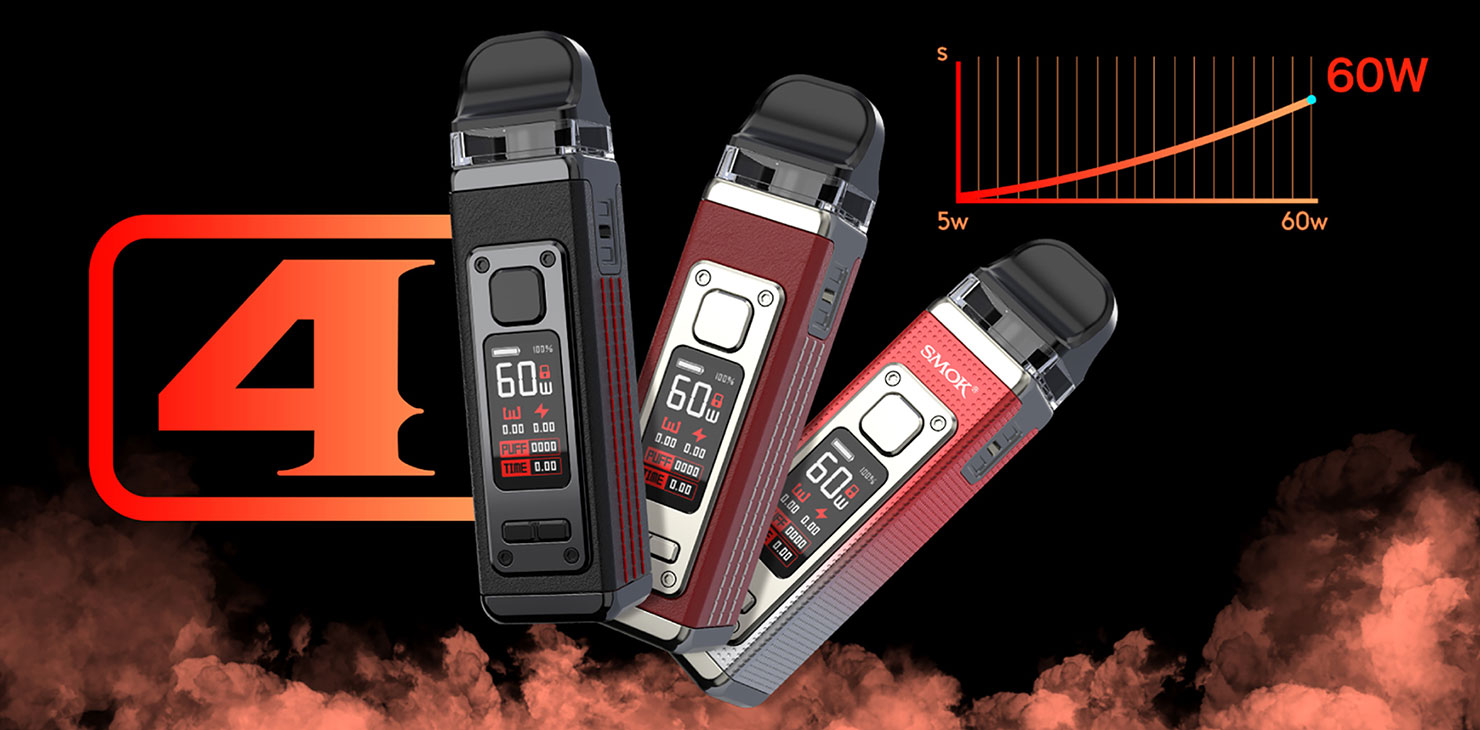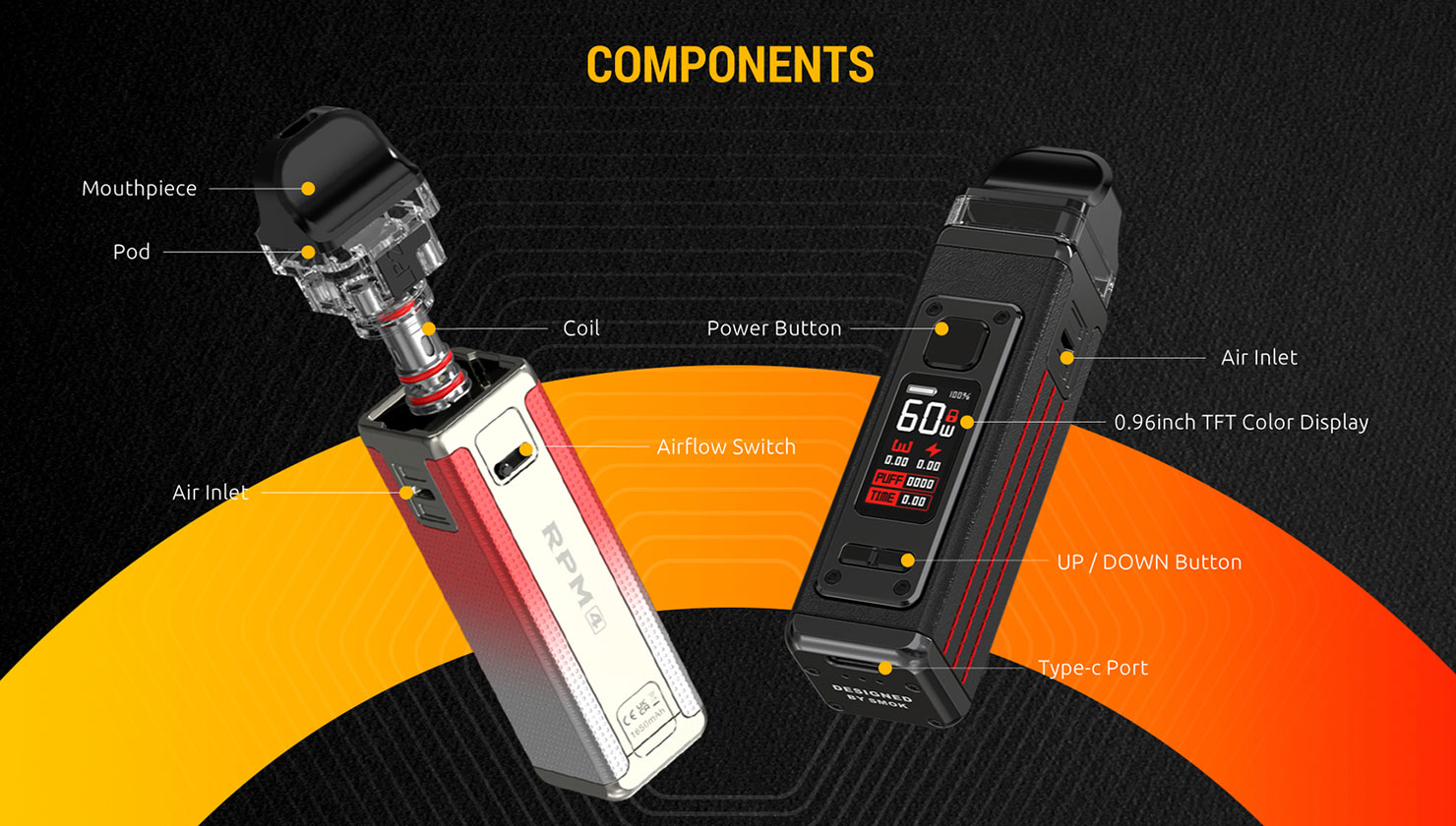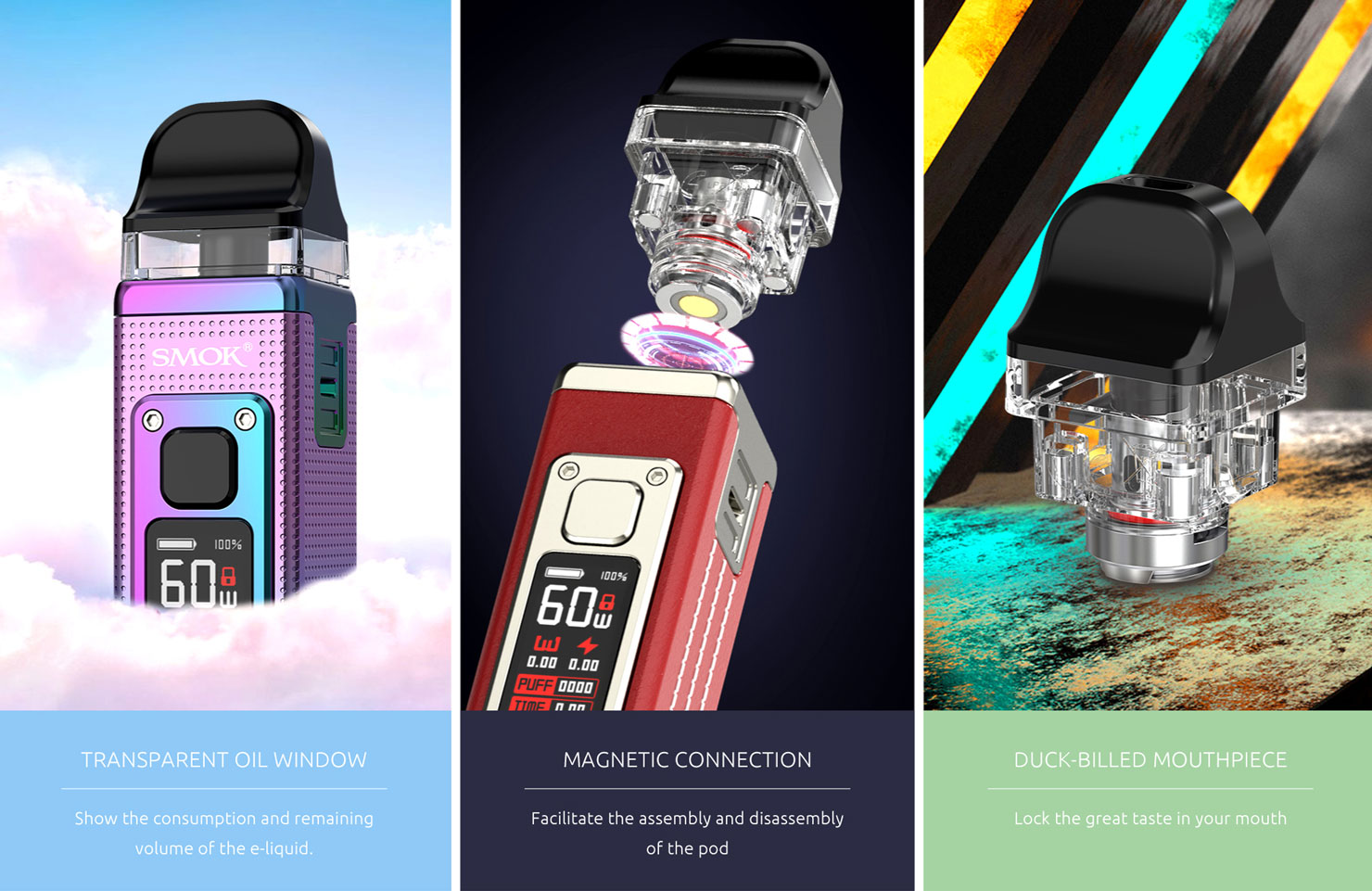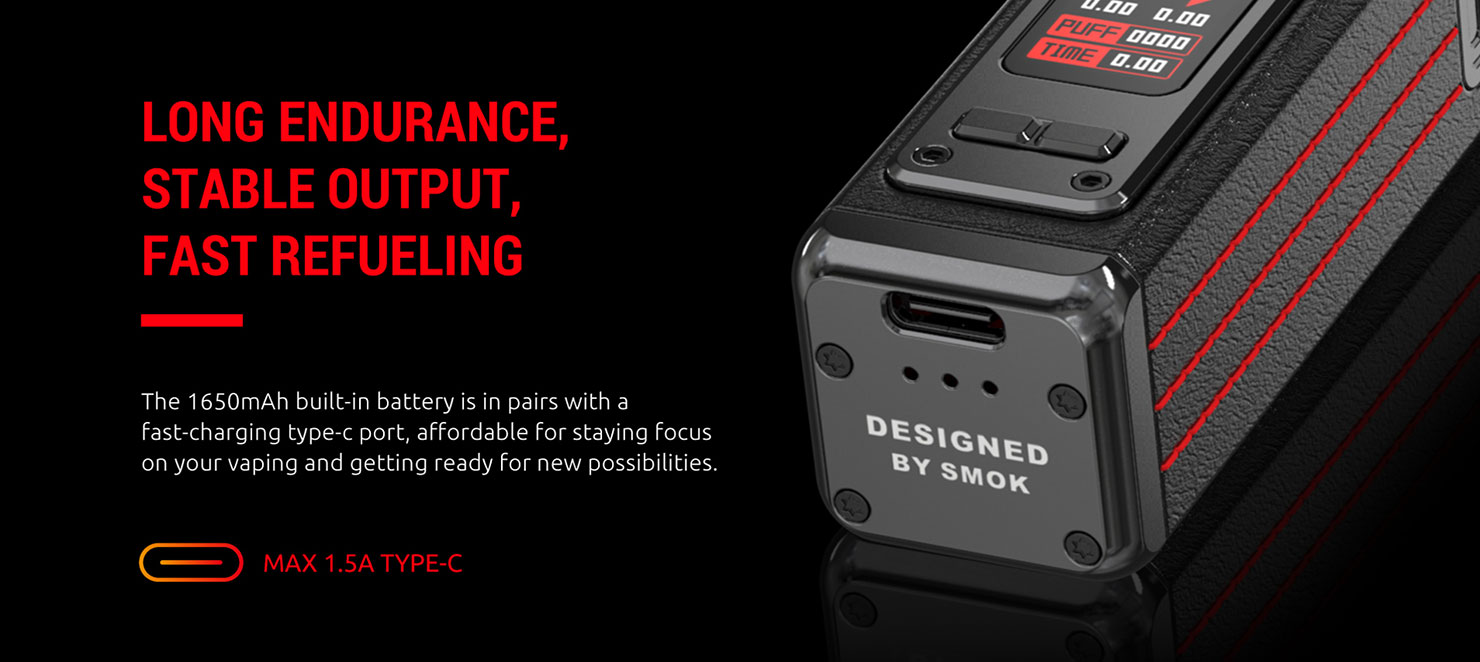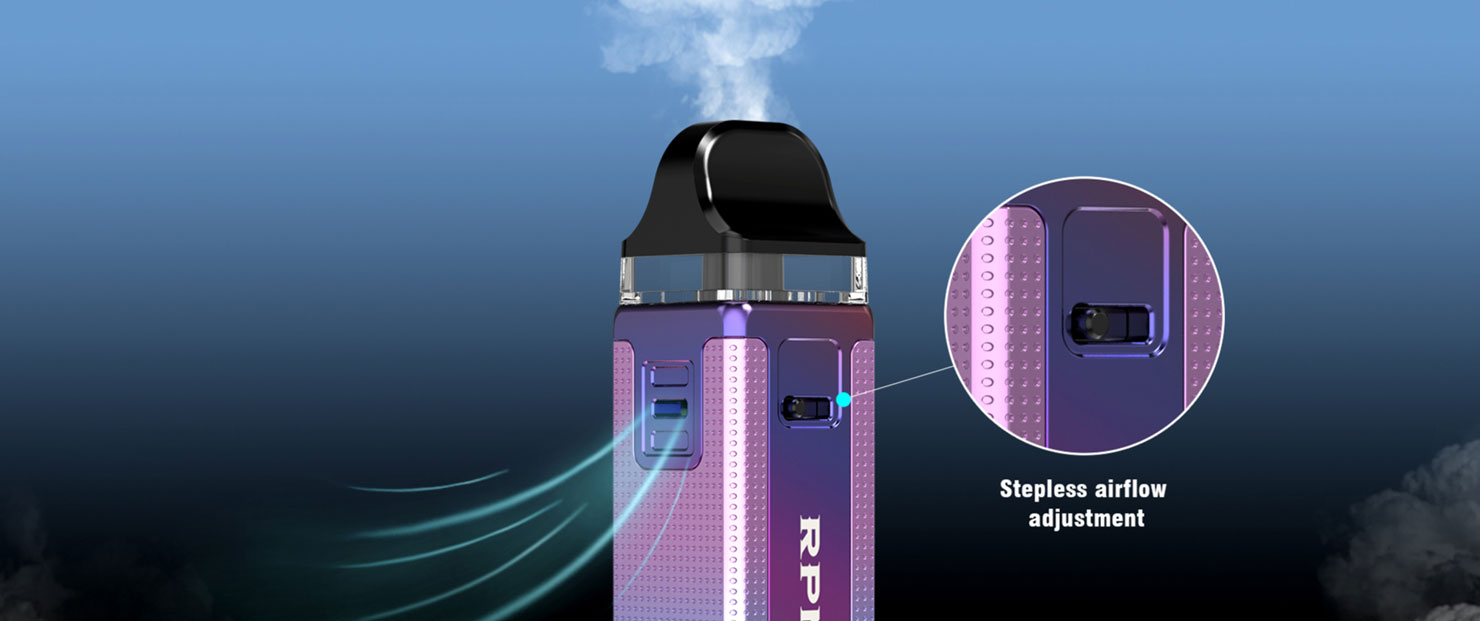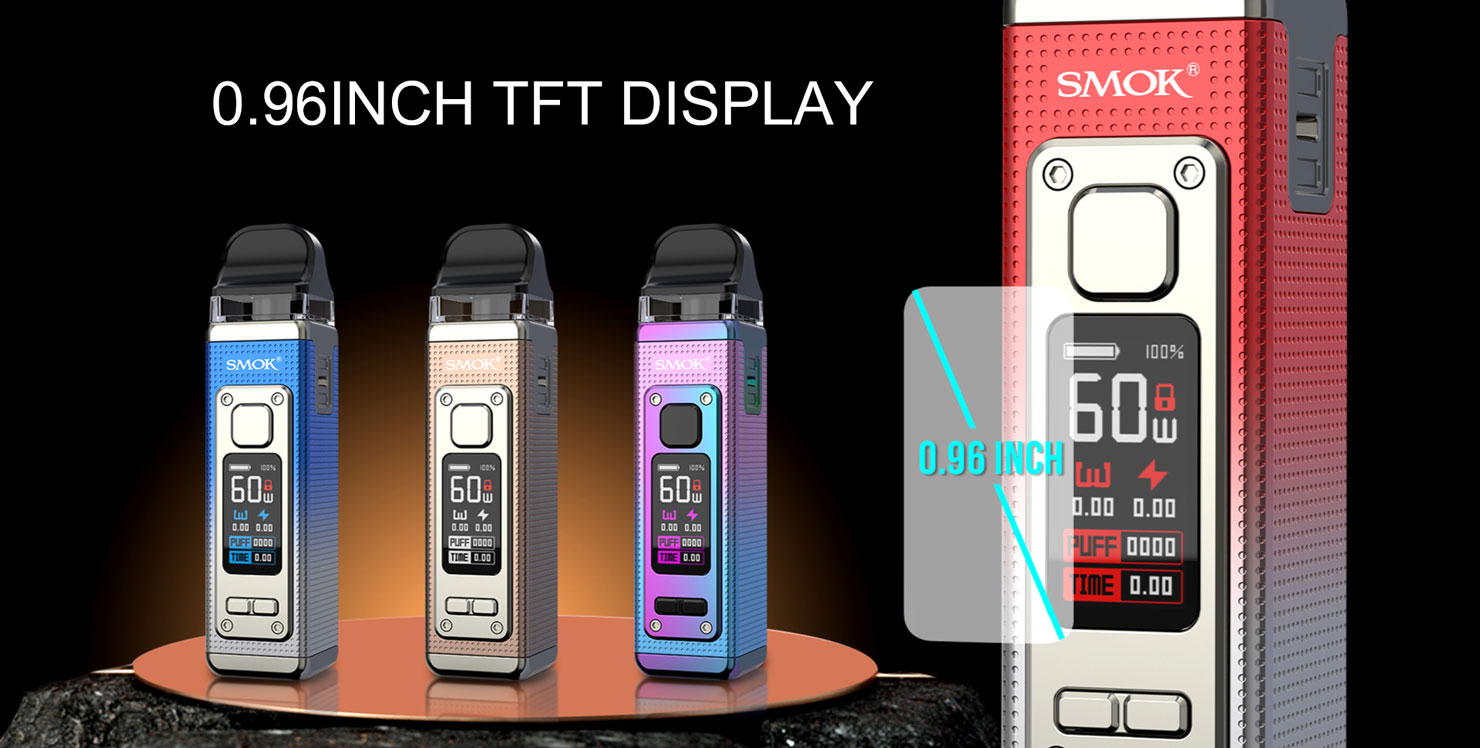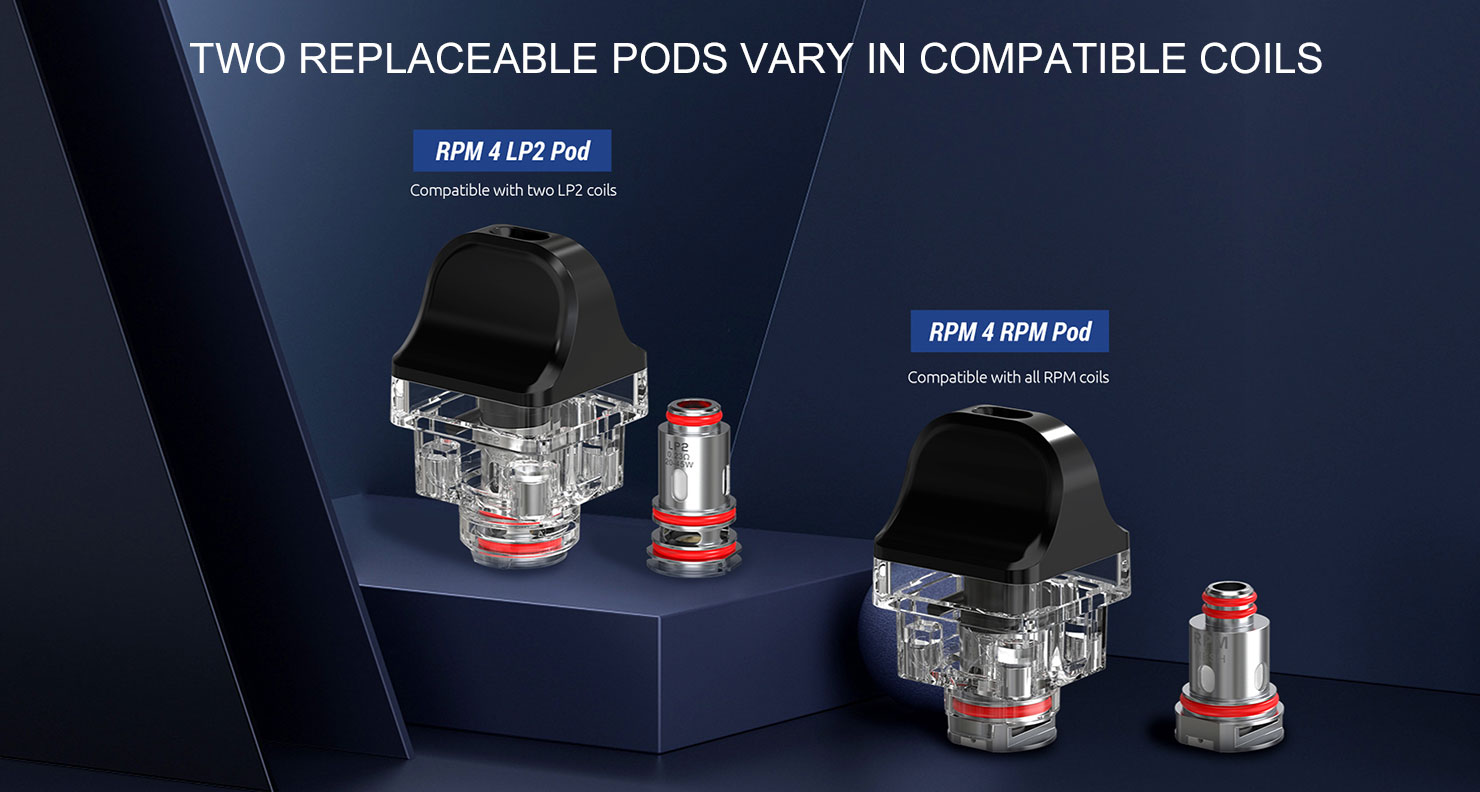 Payment & Security
Your payment information is processed securely. We do not store credit card details nor have access to your credit card information.